SHINJI-RU KARATE ASSOCIATION
Shinji-ru Karate Association was formed in 1985, by Sensei Tom Scott,
who started his karate training in 1969. At that time, not taking it very serious, moving from one club to another, and having tried several styles,
he decided to join a wing chung kung fu club.
The club trained every Saturday afternoon at Ardwick Sports Centre, Manchester, which was run by two of Danny Connors instructors.
Tom was getting into the low kicks and bamboo punches, but noticed one Saturday afternoon some Shukokai stylist training in the next room, and that was it, from that day, its been Shukokai.
Toms instructors then were Sensei Roy Stanhope, and Sensei Rob Milner, of the Shukokai Karate Union, (S.K.U.).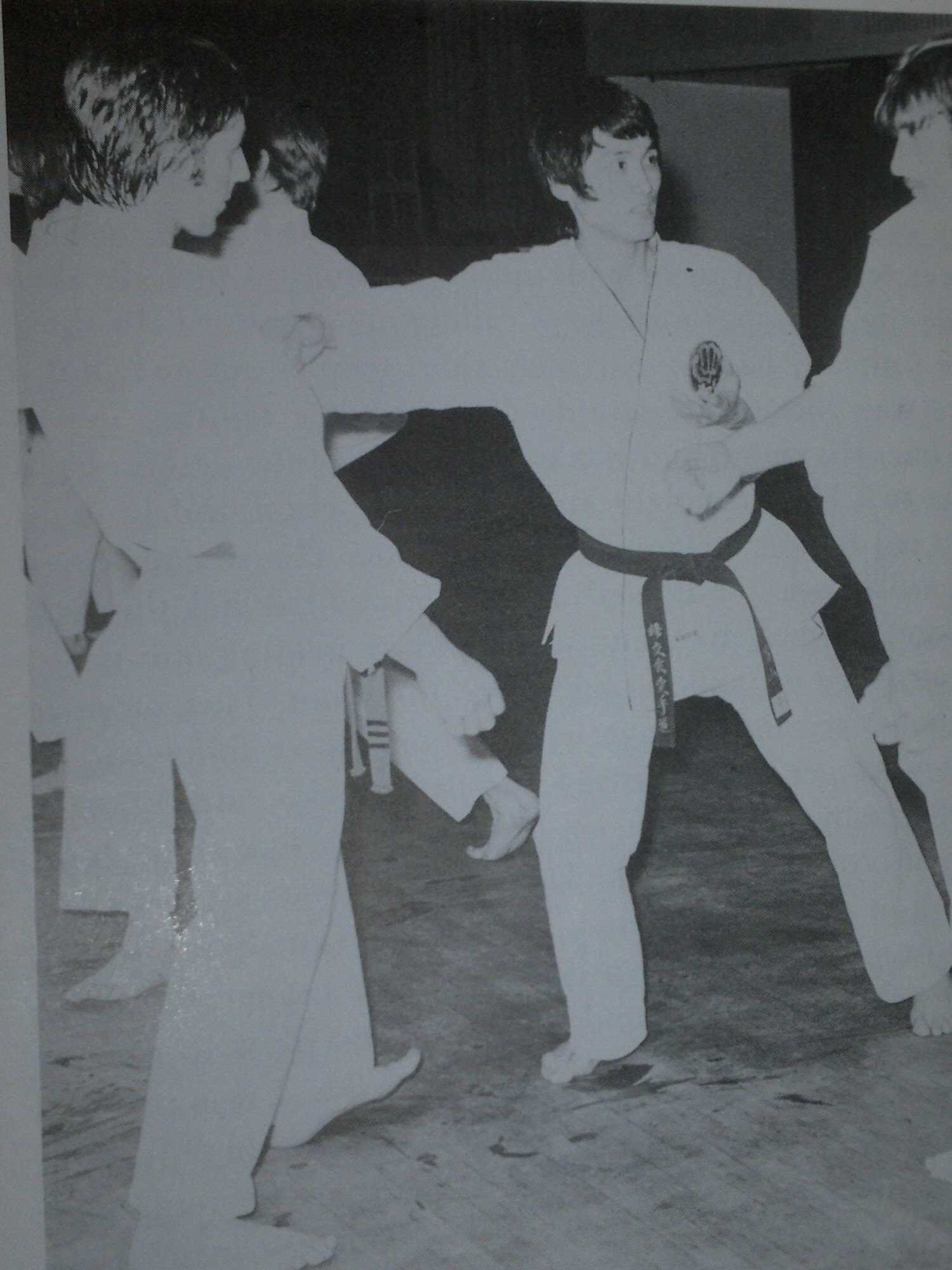 Very interesting Picture of Tom in the byegone days with Tomiyama Sensei explaining exchange of body weight. From a book called ROARING SILENCE wrote by Michael Clarke who's head is pictured on the right.
Tom trained three times a week for six months before taking his first grade. Then progressing regularly taking grades every four months, up to fourth kyu, (purple belt). At that level,
Tom was asked to assist with the instruction, which he thoroughly enjoyed. In 1976,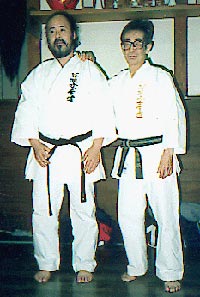 Tom had the privilege to train under CHOJIRO TANI Hanshi, founder of Shukokai, at Moss Side Sports Centre, Manchester,
and many times under S KIMURA Sensei.
When he was graded to third kyu, he was asked to help with running clubs in the Manchester, Glossop areas. During this time, tom gained his second kyu, and his first kyu grade.
At this time Tom was also training with Sensei Charles Allmark,
Sensei Pate, at Deansgate, Manchester, with Prof. Robert Clarks World Ju-Jitsu Association, which was very beneficial to Tom, teaching him a few of the basics of Ju-Jitsu.
After two years Tom, decided to stop the Ju-Jitsu training to concentrate on his Karate techniques and work for his First Dan grade. Using the extra night a week travelling to Sheffield to train under Stan Knighton Sensei, which was very beneficial. He was then asked to run and organise clubs in the Stockport, Bolton, Horwich areas, for the Chikara group run by Sensei Roy Stanhope.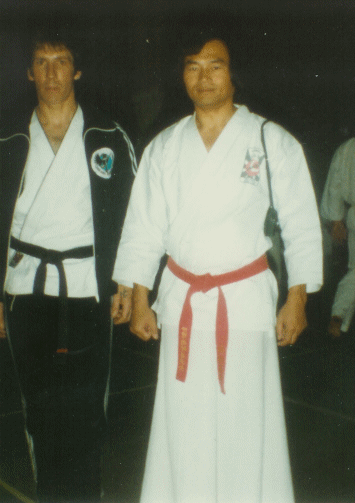 Tom training and meeting Sensei Nambu at Wythenshawe, Manchester, 20th Nov, 1982.


Tom ran these for three years, by now Tom was a Second Dan. First and Second Dan grade examiners, Roy Stanhope Sensei, Stan Knighton Sensei, Ken Gee Sensei, David Warburton Sensei, S.K.U. From beginner to Second Dan.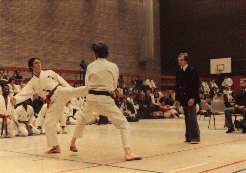 Tom competed in many club / inter club / National / open competitions, came first in two inter club competition. Although his best achievement was being part of the Ardwick (East Manchester) squad, which in 1978, fought its way to a very worthy third place in a very strong turn out in the S.K.U. Nationals.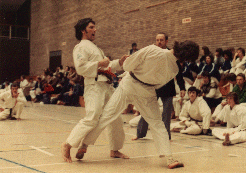 Realising he then was in his late thirties, decided to ease off. But carried on now and again competing in local open competitions, not winning anything but enjoying himself.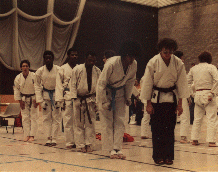 When Tom reached mid forty, although still fairly fast, but due to lots of injuries, and after
two knee operations, Tom stopped competing in competitions.
Having decided to leave the Chikara group, early 1984, Tom joined the Red Dragon Karate Association, (RED.D.K.A.), which was run by Sensei J Bowen, his second in command was
Sensei Rob Milner, one of Tom's original instructors.
Tom's group which by now had a name were known as the Shinji-Ru Karate Centres,
(Shinji-Ru meaning to have "faith and confidence in").
The group enjoyed their time with RED.D.K.A. but Tom was concerned about the Association not being recognised by the M.A.C. the Governing Body at that time. So Tom asked for permission to join F.E.K.O. and after inspection, joined F.E.K.O. in 1986. Known as Shinji-Ru Karate Association, with clubs in Horwich, Bolton, Reddish, Stockport, and Gorton, Manchester.
By this time he was really committed to Karate, and became a self employed professional Karate Instructor. Principal of the Association. Responsible for arranging activities within the Association, such as National and Open competitions, weekend courses.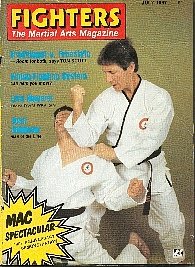 The Association were featured in Fighters Magazine, Julys edition, 1987.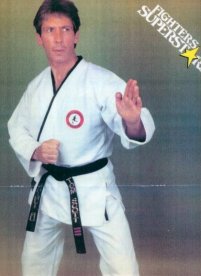 Fighters Magazine, Julys edition, 1987.
Centre fold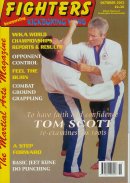 Fighters, Martial Arts Magazine, Octobers edition 2002.
Octobers edition 2002.
Write-ups covering Self Defence and Kata, and coverage for our Shinji-Ru Karate Nationals.
Also Shinji-Ru Karate Open competitions which were held in Bolton, and Horwich.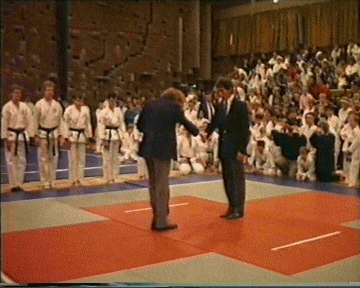 4th Dan ceremony, Phil Schofield, F.E.K.O. Vice Chairman,
Tom Scott. 4th Dan awarded 06/03/88 and recognised by
F.E.K.O. at the Shinji-Ru open championships.
Tom has been a referee at many Traditional competitions, Kata judge at many competitions and including EKC 1987 Championships, eliminations and finals. Freestyle referee / Weapons Kata and Traditional Kata Judge at many FSK Competitions through the 90's, including British Championship fights.
including Freestyle British Championship fights.
Arranged and gave tuition on Association courses 3 to 4 each year covering Kihon, Kata, Kumite, and Weapons, up to the present time.

The Association is a small family group keeping all the traditional basics. The Shukokai Karate Syllabus we use is based on the teaching of Sensei Kimura, and the S.K.U. of the 70's and mid 80's. Which is made up of 10 A's, 10 B's, and 10 C's, Shukokai combinations, 12 Kata's up to 1st Dan.
Hokei Kumite's 5 A's, 5 B's, and 5 C's. Kicking combinations, Stance training, Kumite (sparring), Ippon Kumite, Pad work, also keen on involving our students in competition within our group, open competitions, and within F.E.K.O.
In recent years Shinji-Ru has been interested in Self Defence, Kyusho-Jitsu, (pressure point techniques). Free Style techniques, Escrima techniques, which use single stick, double stick, empty hand, Nunchuku, (15 Kata's), and Katana (Iaido), (15 Kata's).
Although not in the grading syllabus and certainly not to dilute the Shukokai Karate Syllabus. These extra techniques give the Association members more variety, and a chance to enjoy themselves. We do not claim to be a weapon's experts, but students who are interested, We are happy to advise them in a modest way, although the weapon's standard is high.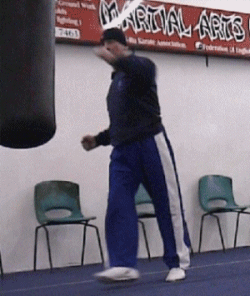 Tom, BRrrrrrr, Cold Dojo,
Gorton. December 2003.
The Association looks forward to the future, as full
members of Federation of English Karate Organisations Int, in direct membership to the World Karate Federation. Federation of English Karate Organisations, in direct membership to Karate England,
(the only Governing Body recognised by Sport England).
Tom Scott 7th Dan, can be contacted by telephone Mobile 07515812851.
AWARDED July 1994, City and Guilds of London Institute Competences in Training and Development Skills ASSESSORS AWARD.

F.E.K.O. Assessors Course, Carlisle, 26th Nov, 2005.

Tom has had Tuition and instruction from,

Tani Sensei, Kimura Sensei, Sensei Nanbu,

Sensei Keiji Tomiyama, Sensei Sakagami,

Roy Stanhope, Rob Milner, Stan Knighton, Kee Gee, David Warburton,

Danny Connor, Terry Pottage,

Prof. Robert Clark, Prof. R Morris, Sensei Charles Hallmark, Sensei Pate,

John Bowen, Brian Smith, Abdul Shieher, John Lynn,

Alfie Lewis, Doug James, Shihan Ray Wilson,

Guro Krishna Godhania, Guro Simon Wells,

Guro John Harvey, Guro Pat O'Malley,

Gary McDonnell, Dave Vickers, Evan Pantazi.